When the weather is hot, a pair of sandals is a necessity. And with all the different types of sandals available, you're bound to find a sandal design you love.
Sandals allow your feet to breathe, show off your pedicure and keep you comfortable throughout the day. Whether you're at the beach, walking around at home or heading to the shops, a good pair of sandals won't let you down.
While you can't wear them all year round, when summer comes, we can't wait to take our various sandal styles out of storage (or buy some new ones from one of our stores) and show them off.
There are many different types of sandals available. This list will cover some of the most popular sandals types of sandals and their names.
Styles of Sandals
No matter the occasion, your style or heel preference, a ladies sandal will never let you down. The sandal comes in so many different types that it can be hard to keep track of all of them. Luckily, we've got you covered. Here you'll find a list of the most popular sandal styles and how to identify them.
Dad Sandals
Not sure what dad sandals are? Head to your dad's closet and pick up a pair of his sandals. Yep, those are them.
While not the most stylish shoes, they are making a comeback. Who knew your dad would be the fashion-forward one in the family. Soon it won't just be him sporting the rugged, velcro-strapped flats.
These sandals can also be referred to as sports sandals. They're generally quite good for walking and won't mind getting wet or dirty.
Wedge Sandals
Every lady's shoe collection should feature at least one pair of wedges. Available in espadrille styles, peep-toe heels, or strappy sandals, wedges are an iconic shoe style.
Identifiable by the wedge heel, these shoes provide a stable base as well as a height boost. They're generally more comfortable than traditional high heels. You can find both mid and high-heeled wedges. They even come in platform styles. Perfect for the boardroom or the boardwalk.
Slides
If you're not a fan of the toe thong, slides are an easy and versatile alternative. Whether you're headed to a yoga class, popping off to the shops, or spending a day by the beach, a pair of slides won't let you down.
Flip Flops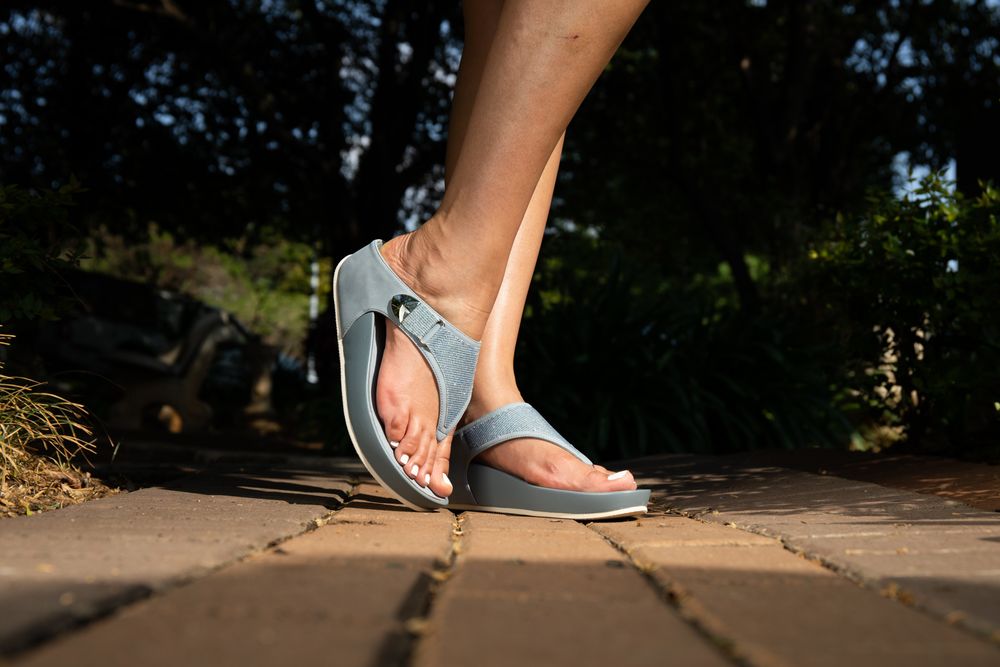 Flip Flops are essential. Not only are they easy to slip on and off, but their minimalistic coverage allows your feet to enjoy the summer while still offering protection to your soles.
They're usually affordable and come in a variety of materials. From PVC to rubber and even fabric, these shoes offer a lot of versatility. The best way to identify flops is their distinctive toe thong.
Mid-Heeled Sandals
Not everyone can wear 10cm heels, whether it's for health reasons or comfort. Mid-heeled sandals are a great alternative that allow you to look stylish without discomfort.
These shoes can be worn for an extended period of time and make great wedding shoes. You can style them up or down, perfect for the week or the weekend.
High-Heeled Sandals
If you're one of those women that can strut your stuff in high heels, you'll love high-heeled sandals. There are not many shoes that can compete with the classic and irresistible high-heeled shoe.
Stiletto sandals are sure to make a statement, and they elevate any outfit.
Gladiator Sandals
Inspired by the gladiators of Rome, the gladiator sandal style has stood the test of time. This style seems to never go out of style. Identifiable by loads of straps and stud detailing, every girl should own at least one pair.
Espadrilles
This classic ladies sandal style seems to stay trendy no matter the year. These casual shoes are the perfect summer shoe. Coming in both high heels and flats, you're bound to find an espa to suit your style.
Espadrilles can be identified by their esparto rope sole and fabric (canvas or cotton) upper.
Platform Sandals
This popular women's sandal shoe style allows you to boast a high heel without putting your feet through too much pain. Characterised by a thick sole that then becomes a heel, you'll find platforms in a variety of different styles (including sneakers and slides).
Flat Sandals
If you're looking for a sandal that offers versatility, a pair of flat sandals is your best choice. They come in both every day and more dressy styles.
You can identify a pair of flats by their thin sole. These shoes typically have no to a very low heel, making them comfy for all-day wear. If you're planning on doing a lot of walking, a pair of flats will be your best friend.
If you don't feel secure in a pair of flip flops or slides, the extra straps (often including an ankle strap) boasted by flat sandals will catch your eye.
Dressy flats usually boast stunning embellishments, buckles, and a variety of colours that elevate them to a new level.
Which Sandal Design is Your Favourite?
There's a reason people love sandals. Not only are they versatile, but they come in so many styles that everyone can find their perfect pair. And if you ask us, you can never have too many kinds of sandals.
If you love sandals as much as us, browse through our shoe collection and find your perfect pair. Which style of sandals is your favourite? Let us know in the comments.