As Valentine's Day draws near, finding the perfect gift for your significant other can be challenging. However, a great way to show them you care is with fashionable shoes that add style and flair to any outfit. February is a great time to treat yourself to something special and trendy footwear can make all the difference.
1. Butterfly Feet Jesse 1
For a stylish and sophisticated shoe to wear on Valentine's Day, look no further than Butterfly Feet's Jesse 1. Featuring double straps around the ankles and a sleek design, this heel is sure to be your perfect companion for any special day.
2. Butterfly Feet Daria 2
The Butterfly Feet Daria 2 has a refined look perfect for all occasions. The ankle strap, metal buckle, and rope detailing on the heel lend it an attractive appeal, while its low heel keeps it comfortable to wear. Whether you're headed to work or out for dinner.
3. Butterfly Feet Valery 2
For a timeless feminine look, the Butterfly Feet Valery 2 is the ideal footwear choice this Valentine's Day. With a delicate low heel and an elastic strap and buckle closure for support and comfort, these shoes are sure to make an impact with any ensemble.
4. Butterfly Feet Amber 1
The Butterfly Feet Amber 1 is the perfect shoe for a subtle, yet fashionable look on Valentine's Day. Crafted from faux leather and featuring an elegant knot detail, this slip on heel provides comfort without sacrificing style. Step out in confidence with Butterfly Feet!
5. Butterfly Feet Lexi 1
The Butterfly Feet Lexi 1 features a classic point toe Stiletto and an ankle strap, creating an elegant yet contemporary look. Highly sophisticated, these shoes provide the perfect fashion statement for any occasion.
6. Butterfly Feet Kady 1
This Valentine's Day, make a bold statement with Butterfly Feet Kady 1. This edgy slip on heel is the perfect way to stand out from the crowd, with metal studs that create a grunge aesthetic. Unforgettable and chic – Kady 1 sets you apart this season.
7. Butterfly Feet Zara 1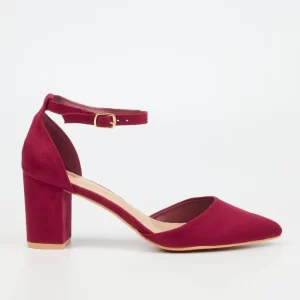 The Butterfly Feet Zara 1 is a stylish block heel that features a pointy toe and an ankle strap for support. This timeless shoe, crafted with Faux Suede material, provides the perfect touch for any Valentine's day ensemble.
8. Butterfly Feet Jody 1

The Butterfly Feet Jody 1 is an aesthetically pleasing, sophisticated pointy toe heel with a stylish chain trim. This design will add class to any outfit and gives the wearer the perfect touch of sophistication.
9. Butterfly Feet Saddle 4

The Butterfly Feet Saddle 4 is an attractive low boot heel boasting an exceptional and distinctive design that is sure to draw admiration. Its elegant cutout detail adds the perfect finishing touch for fashion-conscious individuals who want to make a bold statement
10. Butterfly Feet Drayco 5
The Butterfly Feet Drayco 5 is the perfect choice for any fashionista looking to elevate their style. This chic wedge heel features intricate rope detailing and glittering accents that add a hint of sparkle. An essential addition to any wardrobe, the Drayco 5 is sure to turn heads.
conclusion
Looking for the perfect Valentine's Day gift for your significant other? Look no further than a trendy new pair of shoes! Shoes are a classic gift that never goes out of style, and they are sure to put a smile on your loved one's face. So why wait? Purchase a pair of shoes today